10 Year "No Cracks" Insurance Backed Guarantee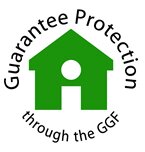 FlexiPoint has been used in several parts of the world for over 10 years with fantastic results, it extends the life of the ridge some 10-15 years. That's why Ridge Doctor are able to offer an optional insurance backed guarantee on all our work for 10 years in conjunctions with GGFi.
If you have lived in your house for any length of time, you will know how frequently your traditional ridge mortar cracks and bits start falling out - it's never long before you have a leaking roof. You will appreciate the peace of mind of having a GGFi 10 year insurance backed guarantee - Ridge Doctor will not only save your ridge from falling apart for 10 years, we will save you the cost of repairs!
Call us today for a FREE, no obligation, quotation to fix your ridge pointing with FlexiPoint or simply complete the form on the right and we will call you back!